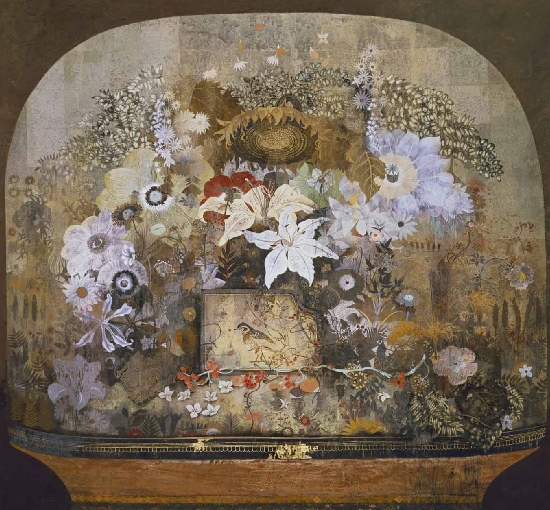 In my late twenties, I visited India for the first time. Everything I saw was interesting. My imagination became sharper, and I felt my creative juices boiling up. Since then, I have visited India many times. I was especially mesmerized by the hustle and bustle of the city of Benares where strong smells and everything else mix and melt together. The voices of bathers praying in the water. The desperate gaze of begging children. Monkeys and cows wandering about. Wagons and cars randomly passing by. In that environment, the Ganges River swallows everything, cleanses it, and then flows away. Looking into the site, I noticed a wooden turret constructed along the riverside. There a dead body was being cremated surrounded by hundreds of flowers. People were watching the white smoke in silence. Soon, yellow flames shot up. The contrast between the mysterious flames burning in exchange for a life and the sacred river flowing along the way. Something hot was boiling up inside of me. I became so anxious with a desire to express this somehow that I hardly remembered how I got home.
 That urgent feeling continued even after I returned to Japan. Around that time, I was pleasantly surprised to be invited to enter my work for the Yamatane Museum of Art Award. I thought to express that feeling and agonized over it for days. I started painting and erasing, washing and painting again. The work was a repetition of that process, but it was a satisfying time. The resulting painting is a lush flower mandala that will depart down the Mother river, the Ganges.
 Unexpectedly, I received the Excellence Award. In front of this piece at the exhibition, Professor Takashi Asada, who had taught me at Musashino Art University, offered these kind words, "Congratulations Mr. Nishida for sliding in to make this work that represents your twenties in the last year of your twenties." It is true that my twenties were filled with doubts about my life and also for my life as a painter. This is the work that gave me the courage to live my life as a painter.